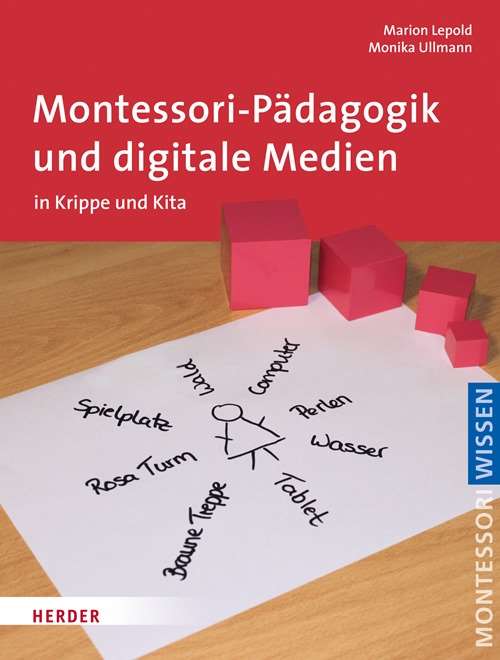 I read this book a while ago, looking for modern applications of the Montessori method. It is sometimes said that Montessori kindergartens and schools are against digital media, and some of them actually are, but the authors of this book find references in Maria Montessori's publications that highlight her goal of making the child familiar to the culture of its location and time. Nowadays, digital media are present everywhere, and are part of almost all parents' lives. Even if the child would live in a technology-free home and go to a kindergarten without any digital media, it will still see them everywhere else, and it will of course be curious about them. Uninformed experiments could be very risky, so the question is then "how  can I help a young child learning about digital media" rather than "if".
The first chapter of the book is quite technical, but I appreciated its in-depth analysis of different kind of digital media, their uses, their downsides, and an explanation of media competence (in four stages: critical thinking, knowledgeability, usage as-it-is and modification/original usage). The authors consider that very young children should make useful experiences with digital media, and get support from the teachers on how to use these tools safely. The special difficulty in teaching digital media is connected to their very recent development: many teachers are less experienced that children, and are not able to integrate these tools in the classroom – and the same can happen at home with the parents.
The second chapter summarises Maria Montessori's life and works, and the third chapter outlines the integration of digital media in Montessori pedagogy. The child is progressively made familiar with them, first only by passive observation when it is very young, then by usage, then afterwards by increasingly critical thinking about how the tool works, if it fulfills the child's needs in a particular activity, what are the consequences of its usage. The authors underline the importance of using digital media not just for entertaining but mostly as a support/expansion of learning. I liked the point where they state how the child should be deciding what to do and then pick the best tool, rather than picking the tool first and then adapt to what the tool can do – it showed me how the child focuses on its ideas rather than being led. The chapter ends with a reflection on teachers, who have grown up without media, and have no personal experience to rely on. With a good plan, this gap can be successfully closed.
The last chapter deals with the practical aspects of introducing digital media in a Montessori kindergarten where they are currently absent, and takes into account many levels of interaction: with the direction, with fellow teachers/colleagues, with parents. In many cases the path has to be explored as new, and great importance is given to tech-competent people (teachers and parents) who can contribute a lot in sharing useful information in the group. Last but not least, the addition of digital tools in the classroom have to abide regulations and good practices about privacy. All of this aims to create a learning environment for the child in the field of digital media, promote awareness in their potentials and risks, and foster responsible use from an early age.
I really liked this book and I think it will be an important reference when I'll be teaching. As a former software developer, I wish to share the knowledge I acquired, and the proposed framework will definitely help me promoting the idea of introducing digital media in kindergartens. Unfortunately it's in German… but I bet there are equivalent publications in English and many other languages. If you know one or more, I'd be curious to read them!